Moving from snowflake to snowflake from left to right, in how many different ways can you spell out the word "Snowman"?
Note to teacher: You can click on the letters in the snowflake diagram above to show different ways of spelling snowman.
Answers
Sign in to your Transum subscription account to see the answers
There is a printable worksheet to go with this activity.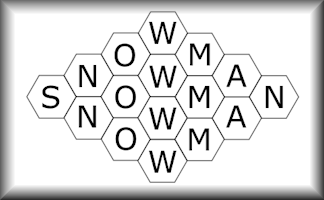 Imagine a similar diagram for "SnowWoman"
How many ways?
---
---
---

Teacher, do your students have access to computers such as tablets, iPads or Laptops? This page was really designed for projection on a whiteboard but if you really want the students to have access to it here is a concise URL for a version of this page without the comments:

Transum.org/go/?Start=December21

However it would be better to assign one of the student interactive activities below.
Here is the URL which will take them to an interactive Christmas activity.
Curriculum Reference
---