Two trains are travelling along the same stretch of single line track towards each other. Each train consists of a locomotive and two carriages. There is however a siding that can take one locomotive and one carriage. How is it possible for the two trains to pass each other by using this siding?
Answers
Sign in to your Transum subscription account to see the answers
---
---
Your access to the majority of the Transum resources continues to be free but you can help support the continued growth of the website by doing your Amazon shopping using the links on this page. Below is an Amazon link. As an Amazon Associate I earn a small amount from qualifying purchases which helps pay for the upkeep of this website.
Educational Technology on Amazon

---

Teacher, do your students have access to computers such as tablets, iPads or Laptops? This page was really designed for projection on a whiteboard but if you really want the students to have access to it here is a concise URL for a version of this page without the comments:

Transum.org/go/?Start=January9

However it would be better to assign one of the student interactive activities below.
Here is the URL which will take them to a related student activity.
---
---
Classic Shunting Puzzles

If you have scrolled this far down the page you may well be interested in our collection of Classic Shunting Puzzles which are fascinating, enjoyable and adictive!
---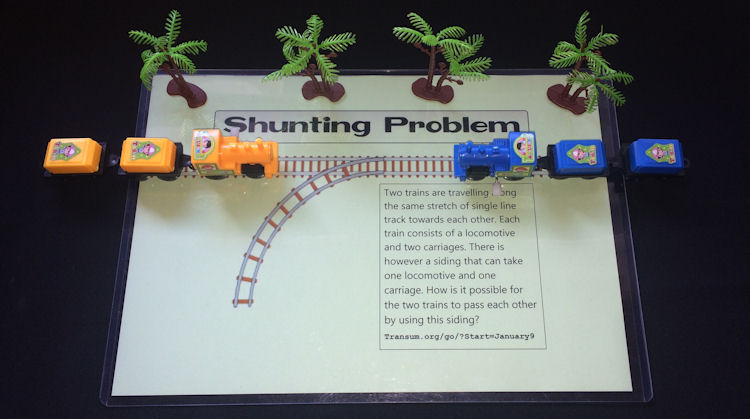 Teacher: If you have young children of your own borrow their toy trains and use these printable train tracks for a real hands-on experience (small plastic trees not included).