Three people enjoy a meal at a Thai restaurant. The waiter brings the bill for £30 so each person pays £10.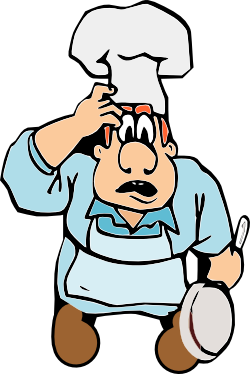 Later the chef realises that the bill should have only been £25 so he sends the waiter back to the table with £5. The waiter was not very good at Maths and could not figure out how to divide the £5 so he gave each person a £1 and kept £2 for himself.
So....the three people have paid £9 each for the meal.
3 x £9 = £27

The waiter kept £2
£27 + £2 = £29

What happened to the other pound? Does this make sense?
Danny Baker on his wonderful BBC radio 5 live programme suggests a unique solution to the missing pound puzzle.
Answers
The final paragraph of the story should read:
The waiter kept £2
£27 − £2 = £25, the correct cost of the meal.
---
---
Missing Baht
Here is a similar puzzle from Thailand: "You borrow money from your Dad (500 baht) and your Mom (500 baht) to buy a phone that costs 970 baht. You then you have 30 baht change from the shop so you return 10 baht to Dad and 10 baht to Mom and you keep 10 baht yourself. But 490 + 490 = 980 and the 10 baht that you keep totals 990 baht. Where is the missing 10 baht?"
---
Your access to the majority of the Transum resources continues to be free but you can help support the continued growth of the website by doing your Amazon shopping using the links on this page. Below is an Amazon link. As an Amazon Associate I earn a small amount from qualifying purchases which helps pay for the upkeep of this website.
Educational Technology on Amazon
GCSE Revision and Practice

Whatever exam board you use for GCSE Mathematics, this book by David Rayner remains an all-round winner. With this latest edition presented in full colour and completely updated for the new GCSE(9-1) specifications, this uniquely effective text continues to increase your chance of obtaining a good grade.

This book is targeted at the Higher tier GCSE, and provides a wealth of practice with careful progression, alongside substantial revision support for the new-style grading and exam questions. With all the new topics included, and a dedicated section on using and applying mathematics, this unique resource can be used either as a course book over two or three years or as a revision text in the run-up to exams. more...
Maths T-Shirts

---

Teacher, do your students have access to computers such as tablets, iPads or Laptops? This page was really designed for projection on a whiteboard but if you really want the students to have access to it here is a concise URL for a version of this page without the comments:

Transum.org/go/?Start=June19

However it would be better to assign one of the student interactive activities below.
Here is the URL which will take them to a related student activity.
---
Extension
A man had an apple stall and he sold his larger apples at 3 for a pound and his smaller apples at 5 for a pound.
When he had just 30 apples of each size left to sell, he asked his son to look after the stall while he had lunch. When he came back from lunch the apples were all gone and the son gave his father £15.
The father questioned his son. "You should have received £10 for the large apples and £6 for the 30 small apples, making £16 in all."
The son looked surprised. "I sold them all at the average price of 2 small and 2 large for £1. Four into 60 goes 15 times so I am sure £15 is correct.
Where is the missing pound?
This extension is adapted from a puzzle in Amazing Brain Teasers by Erwin Brecher
Extension Answers
The average cost of the large apples is £1 ÷ 3 = 33⅓p.
The average cost of the small apples is £1 ÷ 5 = 20p.
So the 2 small and 2 large apples should have been sold for
33⅓p + 33⅓p + 20p + 20p = £1.06⅔
to earn the £16