Name ............................................

Best Times Reverse Bar Chart

20s

30s

40s

50s

60s

70s

80s

90s

100s

110s

120s

130s

140s

2

3

4

5

6

7

8

9

10

11

12
Notes and targets:
© Transum Mathematics 1997 - 2023
This is a page to print and use to record your personal best times for completing Transum's Tablesmaster program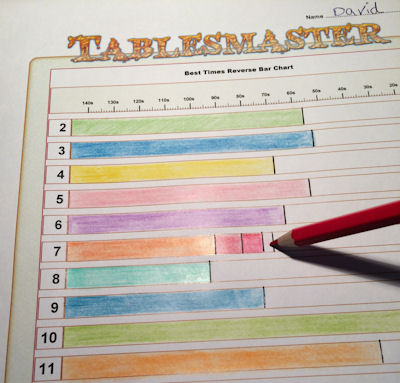 Above you can see a pupil's progress recorded as a 'reverse' bar chart. The longer the bar, the less time it took to complete the twenty questions on Tablesmaster. You can see that the pupil is currently working on his seven times table and as he gets faster at answering the questions the bar gets longer to show the progress made.
More Times Table practice activities can be found on our Times Tables page.