Online Maths Teaching
School is closed but mathematics learning continues for pupils working at home. This page provides suggested activities, methods and resources.
---
You have probably arrived at this page because you are a teacher making contingency plans to continue lessons in the event of school closure. Alternatively you may be a tutor who regularly delivers online lessons via Zoom, Teams or Meet. This page provides ideas for making home learning as effective as possible focussing on the benefits the technology has to offer.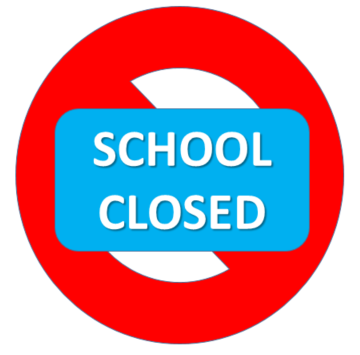 Synchronous
E.g. Whole class online from 10am till 11am
It is possible to have everyone in the class learning together. This can be achieved with video conferencing and chatrooms. The advantage is that class discussion and feedback can be provided in a timely fashion. The disadvantage is that it is significantly more difficult to organise but you can find suggestions of what resources are available here.
Asynchronous
E.g. Do these activities by 4pm tomorrow
This is more like setting traditional homework that pupils can do at a time that suits them. Technology however can make this more effective and easier to manage. Transum offers hundreds of activities for which pupils can earn virtual trophies enabling you to keep a record of progress.
Here are some bullet points of things to consider when assigning eLearning:
Practise using online systems with pupils before the school closes, while they are still in the classroom with you (yes I know, it may be too late for that).
Before school closes make sure pupils take home their textbooks rather than leaving them in their school locker (it may be too late for that too).
Have your key worksheets scanned into pdf format so that they can be issued to pupils digitally.
Keep parents informed of what systems you are using so that they can monitor and support at home.
Be mindful of not overloading pupils with tasks. Keep the expected work time to within normal, school-open limits. Remember they will receive work from other subject areas too.
Assign a longer term project that pupils can be working on even if communication breaks down and you are unable to assign short-term tasks.
Individualised learning plans and differentiation are in many ways easier to administer than in the classroom situation. Most Transum online exercise have a range of 'levels' you might find useful for this reason.
Many families have more than one child sharing the family's technology so off-line activities could be warmly welcomed.
Class Admin
Transum provides a management system for sharing lessons with pupils. The following video shows how it works:
More information about online lesson plans can be found here.
To give you an idea of what an online lesson plan looks like here are some examples to get you started. You will of course want to create your own content based on the current topic from your progremme of study, but for a quick, short notice solution, try one of the following.
Online Lesson Plan 1
Make an Expression Your first activity is a 15 minute challenge. Set a timer for fifteen minutes then try to make as many numbers as possible from the digits 1 to 4. You have to use all four digits but you can use any operations. Good Luck.
Polygons Your head is probably still spinning with numbers after that last activity so let's move on to shapes for a change. This activity requires you to name the polygons by dragging the name cards to match the correct shapes. Press the check button when you have finished to see if you are correct. You can always try again if you get it wrong first time. Look up the shape names in a dictionary or in Wikepedia if they are unfamiliar to you.
Now take a five minute break, walk around the house and stretch your legs. Look out of the window and take three deep breaths.
Snail Race This activity is about probability. You have to think which snail is most likely to win before starting the race. When it has finished write an article describing the race, the reason you chose the snail you did and what your theory is about which snails are likely to be the fastest. Send your article by email to your teacher.
You should now feel good about yourself. You have done a Maths lesson at home without a teacher and your brain is now better than it was an hour ago!
Online Lesson Plan 2
Broken Calculator Your warm-up for today's home learning is to show that you can use a broken calculator. You only have some of the calculator keys to make the list of numbers. Don't forget you can use the number buttons to make two or three digit numbers too.
Writing Expressions Whether you are new to algebra or have been doing it for years this practice exercise is probably quite different from what you have done before. Press the buttons to hear the voice of Transum saying expressions which you then have to type in. If you get any wrong try them again and again until you figure out the correct way to write down the expressions.
Now take a five minute break and drink a glass of water. Do some stretching or yoga poses to keep your body active.
Football Scores This is an investigation. It requires you to write in your exercise book (or paper) your version of the situation and show all of the working you did and the conclusions you came to. Don't forget to consider many different full time scores.
There are many ways you can let your teacher know how well you are doing even though you are at home. If you have earned a trophy for a Transum activity you could sent your teacher the URL of tour trophy cabinet. Alternatively you could send a screen shot of your computer work or a photograph of your work on paper.
Online Lesson Plan 3
Brainbox Start todays home-learning with this puzzle called Brainbox. Try to extend yourself to attempt one of the higher levels. Use the lower levels to develop strategies which can then be used on the higher levels. You could take a screen shot of your work to send to your teacher.
Angle Chase If you have forgotten the basic theorems about angles then have a peep at this page (click each diagram to find out more). Your challenge is to type in every angle shown on the Angle Chase page. Good luck.
Take a screen break for five minutes before applying your mind to the next task. You are allowed to have a snack but it must be a healthy snack.
Dividing in a Ratio Have you ever learnt maths from a poem before? This could be a first! Go to this page then click the little red arrow to go through the presentation, enjoying the poem then working through the examples on the slides. When you think you fully understand this concept you can claim a trophy by doing the exercise that can be found here.
Let your parents know what activities you have been doing in Maths today. Can they remember studying angles and ratio when they were at school?
Online Lesson Plan 4
Beat The Clock To get your brain warmed up for today's Snow Day Maths try this mental arithmetic challenge. Begin with the lowest levels then see how far you can get answering the questions correctly before the shield comes down and stops you.
Shapes in the Stars Now let's switch to a different topic in Maths. This challenge is to see if you know the names of common two dimensional shapes. Find the shapes by joining up the stars. You will find that they are all regular polygons.
Now take a five minute break, do seven sit-ups, two minutes of jumpstyle dancing then wash your hands.
Online Logo Teach yourself how to program in Logo using the instructions and the collection of mathematical challenges on the Logo page. You can use the snipping tool to capture pictures of your work which you can paste into your notes or send to your teacher.
Online Lesson Plan 5
Now take a five minute break, have a drink and a walk around the house.
Area wall puzzles Divide the grid into rectangular pieces so that the area of each piece is the same as the number it contains. There are a number of levels for this puzzle and you can claim a trophy for each level that you manage to do. Good luck.
Online Lesson Plan 6
Screen Test Here's an unusual start to your snow day Maths lesson for today. Memorise the mathematical facts in the video then answer the ten quiz questions. You can rewind or replay the video if you missed the fact in the questions.
Systematic Listing The main theme for today is for you to develop skills for finding all the possibilities in a situation. Do three or four of the activities or levels unless your teacher has given you specific instructions about what you should do.
Now take a short break and do a little exercise.
23 or Bust Here is a game to finish your Maths activities for today. Choose the one player game so that you play against the computer. Play many times and look for strategies that may help you win. You could next play the two player game with a member of your family to show off your game winning strategies.
Online Lesson Plan 7
Sieve of Eratosthenes Start today's home learning by clicking numbers on a ten by ten grid according to the given instructions. This is a self checking, interactive version of the Sieve of Eratosthenes method of finding prime numbers. When you have finished try to memorise as many of the prime numbers as possible.
Factor Trees (and puzzles) Now you know some prime numbers you can create factor trees to find the prime factors of the given numbers. You can't go wrong ... the system won't let you make a mistake. Try the puzzles when you have finished the exercise.
Now take a five minute break, walk around the house and stretch your legs.
HCF and LCM Practise finding the highest common factor (HCF), sometimes called the greatest common divisor, and the lowest common multiple (LCM) of two numbers. There are 5 levels in this exercise and it's best if you do the working carefully in your exercise book then type in the answers online.
Pick The Primes Finish this Maths lesson by picking the prime fruit from the tree as quickly as possible. Practise to improve your personal best time at each level.
Online Lesson Plan 8
Multitude As a warm up for the main theme of this lesson try solving this puzzle. There are seven different levels of difficulty; you don't have to do all seven, just see how far you can get in fifteen minutes. Tell people about the trophies you earn!
Decimal Times Multiplying and dividing decimal numbers is something that people learn, then after a while, forget! Now is your chance, in a quiet room, to bring yourself up to speed with this skill. Most importantly don't forget that there is a help video which gives you clear directions for answering the questions at each level so take your time and get those trophies claimed!
Now take a five minute break, walk around the house and stretch your legs.
Tantrum Your head is probably swimming with numbers right now so let's do something completely different to finish off today's Maths lesson. The Tantrum challenge is all about visualising squares, one of the simplest shapes there is. Along with the challenge there is also a game so if someone else in your house is available enjoy playing the game with them.
Online Lesson Plan 9
Octagram Star This is a puzzle with nine levels of difficulty. The first level is quite easy as ten numbers have already been put in correct positions. Level nine is super difficult! Begin at level one then give yourself twenty minutes to complete as many levels as you can. It will really warm up your brain ready for the rest of today's lesson.
Transformations The main part of today's lesson is about simple shapes that appear to move or mutate according to a rule. There are videos to help you along (click on the help tab) and you can try as many times as you wish to get the transformed shapes correct. You should spend 40 minutes on this activity. Good luck!
Now take a five minute break, have a healthy drink, do ten press-ups then wash your hands.
Remainder Race I love this game! It's based on the oldest board game in the world. You can play against a member of your family if they are available or you can play against the computer. The computer does not play the perfect game so you have a good chance of winning.
Teacher: You can send the link to this page to your students when your school has to close due to coronavirus or any other reason. The activities have been chosen to have a low threshold and high ceiling meaning that are suitable for pupils of a wide range of previous attainment.
Pupils can complete the activities online and earn trophies as a record of their progress. Teachers (who are Transum subscribers) can see from their class list which pupils have earned which trophies.
You can be more specific by sending out one of the links below to only show one day's worth of activities:
Online Lesson Plan 1
Online Lesson Plan 2
Online Lesson Plan 3
Online Lesson Plan 4
Online Lesson Plan 5
Online Lesson Plan 6
Online Lesson Plan 7
Online Lesson Plan 8
Online Lesson Plan 9
A full list of all the Transum resources, listed by topic, can be found on the Topics page.
Resources for Communicating
The resources I am currently using are marked with a 💗
Content Creation
Flashback Recorder:

💗

The Express version is free but I am currently using the Pro version (to make Transum help videos) which costs £36 (pay once, use forever).
Screencastify: is a free Chrome extension that lives in your browser to easily record, edit, and share videos.
OBS Studio: Free and open source software for video recording
Xbox Companion: can record a screencast from a web browser and is probably already installed on your PC. Press Windows key and G.
Premiere Elements:

💗

requires a subscription but this video editing software will meet all of your needs when editing videos.
Apple Screen Recording: In iOS 11 or later, and iPad OS, you can create a screen recording and capture sound on your iPhone, iPad, or iPod touch.
Padlet: is somewhere between a doc and a full-fledged website builder, Padlet empowers everyone to make the content they want, whether it's a quick bulletin board, a blog, or a portfolio.
Google Classroom: facilitate paperless communication between teachers and students and streamline educational workflow. Classroom allows teachers to create classes, post assignments, organize folders, and view work in real-time.
Seesaw: Connect families to see student work and celebrate progress. Up to ten family members can stay in the loop using the Parent and Family app (iOS, Android) or on web
Edpuzzle: Easily create beautiful interactive video lessons for your students.
Video Conferencing
Platform
1 to 1 tuition
Class of 30
Comments
Bitpaper


⭐⭐⭐⭐⭐




💗

$8 pm
$20 pm
Work and communicate in real-time. Share anything on your screen with one click; websites, apps, videos and more. Bitpaper delivers everything you need to work together effectively online and I like it very much. It couldn't be simpler to set up, no downloading required, it works completely online. It is exceptionally good if you have a stylus to write on the virtual paper but if you are not a fan of your own handwriting there is a very effective typing option too.
Google Meet


⭐⭐⭐⭐

Free
Free
It is said to be the easiest and most robust of the current platforms for video conferencing and sharing. For me personally the previous version, Hangouts, was so easy to set up and use and it was my favourite. No software installations required as the video and controls are all in the browser. Now it has become Meet I haven't been able to use as a tutor with students who only have a school Google account. Very annoying.
Microsoft Teams


⭐⭐⭐⭐

Office 365 rqd
Part of the Office 365 subscription. I really like the ability to allow pupils to use their mouse to work on the shared screen. You'll need a Microsoft account, or associate your email address with Microsoft to join.
Skype


⭐⭐⭐⭐

Free
Free
The big advantage is that being the most popular video calling service it is likely to be familiar to pupils.
GoTo Meeting


⭐⭐⭐⭐

£69 pa
£134 pa
It is the choice of many business people due to its multi-user flexibility. I have used it frequently and found it to be very reliable but the screen sharing is not as smooth as it could be.
Zoom


⭐⭐⭐⭐⭐




💗

Free
Free
Host up to 100 participants but limited to 40 minutes on the free plan. Teachers have has great success with it and like the facility to mute all participants then Unmute one participant at a time to provide undivided attention. As with other platforms the ability to record lessons means nobody misses out. I like all the features and it has now become my video platform of choice.
Appear.in

Free
n/a
Said to be really simple to set up and use I haven't yet tried this platform.
Jami

Free
n/a
An open source platform that offers messaging, video and audio. I haven't yet tried this platform.
More options reviewed by Process St and Larry Ferlazzo and Richard Byrne.
Avoid using Facebook, Instagram and other similar social networks as your online learning platform due to the distractions and temptations to be 'off task' lurking within.
There is no need to have your kitchen as your background when teaching remotely, here are some backgrounds you might find useful (to cover up last night's washing up!)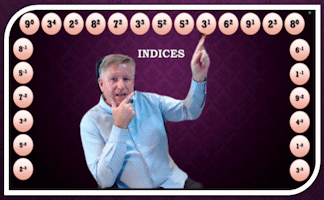 Remote Teaching Video Backgrounds
Video Mixing
My latest "must have" is ManyCam. I think it is absolutely brilliant. If you can imagine the control room at a big TV studio where the have numerous screens showing different view of the studio and they can easily switch from one to another… well Manycam provides that on your computer. There isn't space in this Newsletter to explain benefits you probably haven't thought of yet but I'd love to make a video showing just how much better my online teaching is now.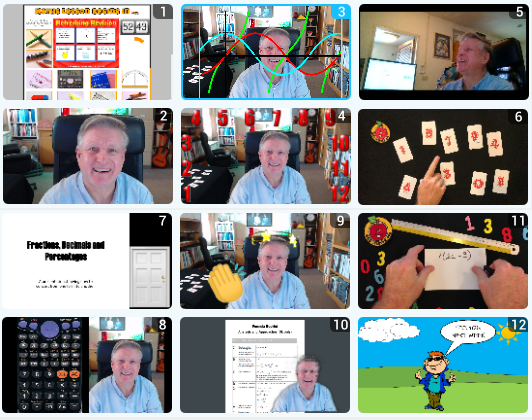 When ManyCam is launched you can create many 'presets' that you can smoothly transition between during your lesson. Here are some examples of presets I've been using recently.
The lesson Countdown Timer (available in Class Admin, Lesson Plans).
The default view of me!
Trig graphs as an overlay so that I can point at features from behind.
The numbers 1-12 I can point to for time table facts recall practice.
A side view for close up of visual aids.
My iPhone clamped over my desk to act as a visualiser.
A PowerPoint presentation cued up and ready to go.
Large view of calculator buttons I can draw on with the built in drawing tools.
A silly congratulations animation to celebrate achievement.
A pdf version of the IB formula book I can scroll through and write on while still being in the picture.
A YouTube video cued up and ready to go.
A 'goodbye' screen to end the lesson.
Email
Your pupils are almost certain to have email accounts, probably provided by your school.
Keep emails concise, containing links to activities and online documents so that you can avoid attachments.
Remind everyone to check their spam/junk folders regularly so that they do not miss important information.
If sending an email to a large number of pupils and parents use the BCC field so that you are not compromising personal data (see GDPR guidelines).
Acknowledge emails received from pupils and parents even if an answer is not required. This 'digital handshaking' lets the initial sender know that their message has got through to you and has not been lost in cyberspace!
Sometimes email is not good enough for communication a particular concept (constructing a perpendicular bisector for example) so suggest a videoconferencing call - but keep parents in the loop.
Handwriting
If you need pupils to see your handwriting as you teach and you don't have access to the interactive whiteboard in your classroom, there are three practical options. I will list them here in increasing order of effectiveness:
Real whiteboard or flip chart.

Pictured here is a small, inexpensive whiteboard purchased from the local stationary shop and mounted on a small step ladder. It requires the camera you are using to focus on the board so that pupils get a clear image of your writing.

I have to say that I haven't actually had to use it yet as the digital preferable alternative has always worked. I keep it as a backup though.

You might notice the Indices Eye Test chart on the bottom step. That's a fun way of finding out how well the pupils can see the image captured by your webcam ... assuming they have a decent grasp of exponentials of course!

Tablet and Stylus

I have tried using a Wacom Intuos pen and graphics tablet with my computer instead of a mouse. While it certainly makes writing easier it needs a lot of practice to overcome the strangeness of writing on the desk while your eyes are looking at the screen.

iPad (or similar)

💗

The best results can be obtained with an iPad Pro and Apple Pencil. I have been using Good Notes for content creation and BitPaper for live teaching.

It does take me a certain amount of time to have the resources I will need for the lesson set up in BitPaper but the results are quite pleasing. If the pupil does not have the tools to make handwriting easy I find drag and drop activities are the next best thing.

If handwriting is out of the question then the typing tool in BitPaper is often good enough.
Calculator
I have found that having a calculator emulator on my computer has been really useful as I can share my screen to show the more detailed calculator techniques.
My scientific calculator emulator is a fx-82/85/350ES PLUS 2nd edition. It cost me £11.84 purchased from Casio.com.

My graphing calculator emulator, the same model that my students will be using in exams, is the TI-Nspire Teacher Software.
Hands Up!
It's a bit difficult to ask for "hands up" if everyone's video link isn't visible to you, the teacher. Here's an alternative called the Student Voting System. It allows students to vote or choose a response to a question posed by a teacher. The teacher is then able to immediately see the collated responses from the class.
One to One Tuition
Here are some tips for setting up an online tutorial for a pupil using BitPaper and Google Hangouts. Neither of these platforms require the pupil to download anything as they both run nicely in a browser.
Before the session set up a Bitpaper specifically for the pupil you are about to teach. Set up pages for more activities than you will have time for in the tutorial just in case one of the activities does not work. Here are some examples of Bitpaper pages I have used with pupils.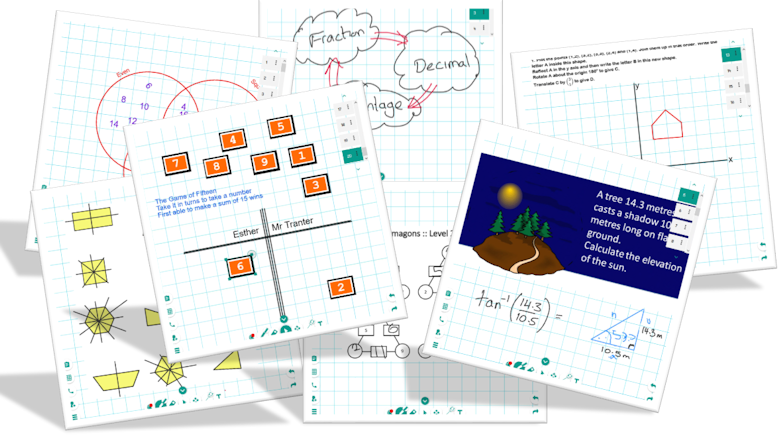 Now you are ready to go. Exactly five minutes before the tutorial session is due to start initiate a Google Hangouts session and send the pupil an email containing the link for the Bitpaper and the Google Hangouts link.
Good afternoon Jimmy,
It's time for our Maths lesson. You will need something to write on, something to write with and your calculator.
Here is the URL of the video link:
https://hangouts.google.com/call/eXaMpleNotreal#45321
Here is the link for the BitPaper:
https://www.bitpaper.io/go/Jimmy/eXaMpleNotreal#45321
Here are other links we may use in the lesson or you could work on if the video connection drops.
https://www.transum.org/Maths/Activity/Numbasics/
https://www.transum.org/Maths/Exercise/Expressions/
See you in five minutes,
Mr T
P.S. Don't forget that for the best experience use a large screen computer (desktop or laptop but not a phone). This is because I will be sharing my desktop documents, some of which will require interaction/manipulation by you. Your device will also need to have a webcam as teachers judge how quickly to go through explanations based on the expressions on the faces and the body language of their students!
Now please excuse me stating the obvious but I've thrown together a checklist of what needs to be done before your online tutorial begins.
Pre-Online Tuition Checklist
Get changed into professional clothing! Check you hair and shave!
Go to the Toilet
Check webcam, speakers and microphone are working and turned on
Get real whiteboard or flipchart ready in case digital version fails
Get flashcards ready if necessary
Launch Google Hangouts in your favourite browser
Launch Bitpaper in a second instance of your favourite browser
Launch your lesson plan in a second instance of your favourite browser
Send the pupil links to lesson (see above)
Put phone on silent mode
Turn lights on so that you well illuminated. Close curtains on windows behind you if there is too much back lighting
Wait to enthusiastically welcome the pupils when they appear online
Let Transum know if anything else should be included on this list
And you are now good to go. Open Bitpaper on the left half of your screen and have the video link on the right side of the screen. Let the learning begin!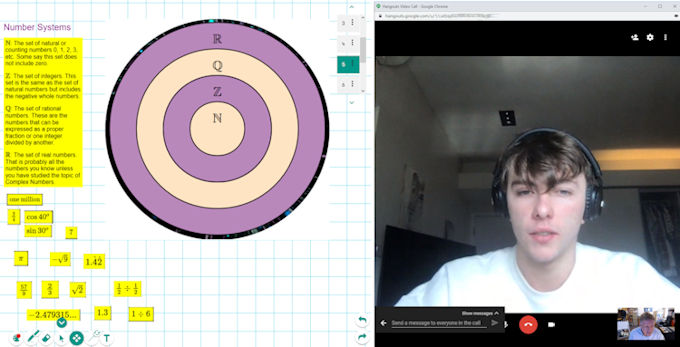 Have Fun, Play Games

Keeping everyone happy during this isolating time is very important so a few games might be very much appreciated.
All you have to do is launch the game then, in a video conferencing session, share your screen. You will have to roll the dice or move the piece for the person on the other end of the video link but they might actually enjoy giving you instructions!
Here are some ideas to get you started
Teacher and whole class
---
Tutor and Pupil
---
In your own time
---