Square in Rectangle Puzzle
Friday 1st June 2018
Despite this being the middle of the exam season for some I would still like to take your mind off your daily routine to present you with a puzzle.
Imagine a 10cm by 15cm rectangle. What is the largest square that can be drawn snuggly in one corner that just touches the rectangle's diagonal. The answer will be at the end of this newsletter.
Now let's dive into the new activities added to the Transum website this last month.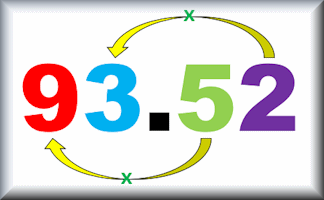 The Value of Places is, as the title suggests, a place value quiz. It can be sometimes difficult to find more challenging place value activities for Secondary students as they have been learning about place value since early Primary and have probably done the usual types of activity. This online exercise challenges pupils to figure out how many times bigger the value represented by one digit is than the value of another digit in the same number.
Prime Pairs Game is for two players who take it in turns to add a numbered card to either end of a row of cards so that every adjacent pair of cards adds up to a prime number.
Graph Paper has been updated. I think it is the quickest way you can print a sheet of graph paper with numbered axes to suit any graph you may need to draw.
eQuation Generator has also been updated. Its only function is to present you, the teacher, with an endless supply of linear equations that you can project in front of your class. The update improves the delicate balance between providing more of the same while presenting many variations of the chosen type of equation.
Likelihood is a new title given to the probability sorting activity. A pupil's ordering of the given situations is matched against the average ranking of all the other people who have done the activity.
Loci Land is live but not yet finished at the time of writing this newsletter. I do expect it to be completed in the next week. It currently contains two real life situations that pupils copy on to squared paper then draw the constructions in order to answer the loci question. More questions will be added soon.
I heard an interesting fact on a podcast I subscribe to last month. Did you know that rather than (in the UK) having 1p, 2p, 5p etc. coins it would be mathematically more efficient to have 1p, 3p, 11p and 37p coins? I have included the excerpt from the podcast in the Transum podcast for this month which you can find at Transum.org/Podcast. If anyone would like to share a proof of that in a form that pupils could understand please let me know and if facts like that are your thing, don't miss the Maths Trivia page.
On a different subject I am happy to say that you now have the option of viewing Transum webpages via https: as well as http:. This development took place last month when the more secure protocol was implemented. SSL (Secure Sockets Layer) is the standard security technology for establishing an encrypted link between a web server and a browser. This link ensures that all data passed between the web server and browsers remain private and integral. SSL is an industry standard and is used by millions of websites around the world.
Finally the answer to this month's puzzle is that the area of the biggest square would be 36 square centimetres. You can see the diagram and my method on the 'Square in Rectangle' Advanced Starter page.
That's all for this month,
John
P.S. If a got 50 pence for every time I failed a maths exam I'd have about £6.30 now
---