Pi Day following Pancake Day
Friday 1st March 2019
As I sit here updating the Transum website I have the radio on for a little bit of background noise. The presenter (Max Mallen) has just asked the following riddle:
If I start at five and add six I get eleven but if I start at six and add seven I get one. What am I?
Listeners were invited to send a message to the studio with their answers so I did! Can you figure out what the answer is? My answer is at the end of this newsletter.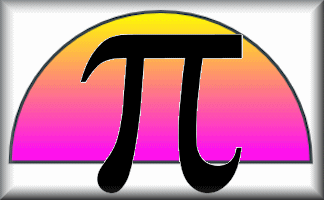 This month contains Pi Day on the 14th March. I would like to direct you to some resources that will help make the day memorable. They are all linked from the 14th March Starter of the Day page. The main, fun activity is a memory competition in which pupils work to commit as many digits of pi to memory as possible. Further down that page you will find links to more traditional pi activities involving areas and circumferences of circles. There are also some unexpected facts, videos and jokes on that page.
Some schools make a big deal of Pi Day. Each year their Pi Day will have a different theme. Recently Craig Barton interviewed top Scottish Maths Teacher Chris Smith who talked about his school's themes from previous years. I've included an excerpt of the interview in this month's podcast. Let me know what you do with your pupils on Pi Day.
Transum has a finger in every pie (pi)! You can follow Transum on Twitter, Like on Facebook and listen, share and rate 'thumbs up' on Stitcher or Apple Podcasts.
During February the Volume and Surface Area activities were updated on the Transum Website. There are now more questions grouped in more levels and additionally more exam-style questions for the older student. Not all levels will be suitable for every student so you will need to click on the 'Description' tab to see the content of the levels and then direct your students to the appropriate levels.
Continuing the story of me listening to the radio as I work, last Sunday Elaine Paige on BBC Radio 2 had a two hour program in which every song she played had a number in the title. My immediate reaction was that this idea could make an interesting activity for the Transum website. Then on further reflection I decided that you had to be of a 'certain age' to know the songs she was playing so I tossed the idea into the bin.
After discussing the Royal Game of Ur, a Transum activity got a mention on the Frank Skinner Saturday morning show on Absolute Radio. If you haven't used the Remainder Race yet I highly recommend it. It is based on the ancient Ur game but the moves are determined by calculating remainders. It provides fun numeracy practice in the last 20 minutes of your lesson. The audio recorded from the radio show is in this month's podcast.
A 2018 paper suggesting that people who have a surname beginning with a letter towards the end of the alphabet are more likely to end up academically and professionally undistinguished. How did I know this? Yes, you guessed it, on the radio. Well not strictly the radio but a podcast called No Such Thing As A Fish. You can hear the excerpt in this month's podcast.
Pancake day is on the 5th March this year. Here is the Transum virtual pancake tossing activity which lets pupils participate in a themed challenge while developing their mathematics. You could also demonstrate the rules using real pancakes which the pupils could eat at the end of the lesson with lashings of sugar and lemon juice … or maybe not!
The answer to the puzzle of the month is time! If you start at 6am and add seven hours it will be 1pm. The official answer is 'a clock'. Did you get it?
That's all for this month, enjoy your pancakes and pies,
John
PS. I am terrified of negative numbers. I will stop at nothing to avoid them!
---